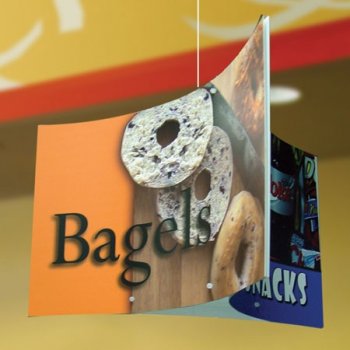 If your business is feeling cluttered and you find yourself scrambling for places to advertise, try the Ceiling Danglers by Five Fish Press. Our professional looking graphics make it easy to advertise your products while maximizing the use of your space. The Ceiling Danglers are meant for repeated use, allowing you to make the most out of your marketing budget.
Our team can help you create a variety of unique ceiling danglers. Whether you want an easy to read text only sign or are leaning towards a captivating colorful graphic, we have the talent and resources to manifest your vision accurately and quickly. All of our ceiling danglers are custom made and tailored to your exact specifications from the size to the color to the shape.
In addition to our indoor ceiling danglers, we also offer outdoor versions as well. These attractive, eye-catching banners are designed to be seen clearly from a distance. They can display upcoming deals, specials, store openings or general greetings.
Our ceiling danglers have been a go-to staple for major grocery chains, retail outlets and other businesses looking to expand their advertising potential. Take advantage of your ceiling space today by contacting our team.